The 2017 event features an Art of Living suite crafted by local designers
By Kasey Harvey
Crested Butte, Colorado, is home to one of the nation's top arts festivals. Now in its 45th year, the Crested Butte Arts Festival features incredible art, fantastic cuisine, exhilarating entertainment, artist demonstrations, children's activities, and an art auction. Head to Crested Butte for the annual arts festival from August 4-August 6, 2017. See the 2017 festival artists here.
Local designers have been preparing the Art of Living Design Suite, presented by Mountain Living and Colorado Homes & Lifestyles.
Meet the designers behind the suite:
Joe Bob Merritt, Sol Space & Light Inc.
In 1998, Merritt founded Sol Space & Light Inc., a design, planning, and construction office specializing in unique custom homes and mixed-use developments. Merritt has designed over 100 built projects within the past 15 years including award-winning custom homes, a master-planned youth camp, and an astronomical observatory.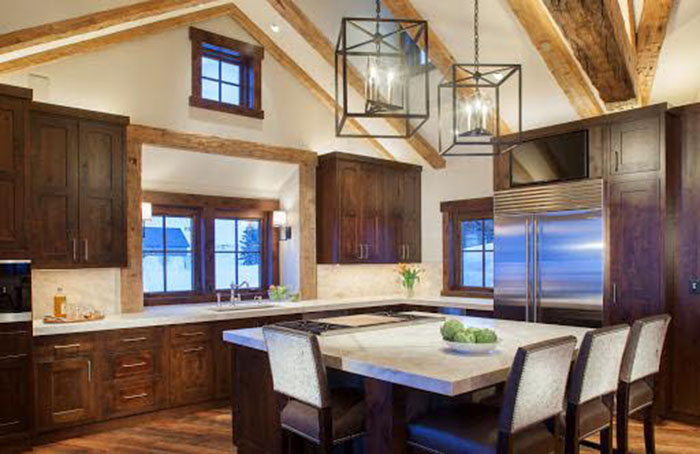 Photo by James Spahn, courtesy of Interior Visions
Heidi Sherratt, Interior Visions
Interior Visions is a full-service interior design company with over 13 years of experience working in the Gunnison Valley. Interior Visions takes pride in providing innovative mountain style design and products which are specific to each unique client's style, budget, and time frame.
Kim Raines, Mountain Colors
Born and raised in Tulsa, OK, Raines followed her heart and moved to beautiful Crested Butte, CO after college. She joined Mountain Colors in 2004 and the rest is history. Raines, owner of Mountain Colors, is passionate about design and color, and inspired by the lifestyle and sense of community in Crested Butte.
An exclusive sneak peek:
The talented team of designers will build a pop-up design studio within the 10×15 tent, meant to be a functional space for dreaming and designing!
The space will be fitted with furnishings and fixtures sourced from within the designers' own studios and workshops. There will be books, materials, catalogs, and a layout/drawing table, and seating for relaxing and chatting with folks about home design.
Many of the pieces in the space will reflect each designer's interest in architectural salvage and the mixing of rustics and refines.
"Time in the studio matters. What we make matters. The truth of the matter is…Matter Matters! Design matters! The studio is a place that is designed to be comfortable and functional where-in we may contemplate materiality and envision the compositions of things and space as we strive to make places that are both meaningful and functional," says Joe Bob Merritt of Sol Space & Lighting.
The Art of Living Design Suite will be a fun, relaxing, and informative space to inspire creativity while picking the brains of some of Crested Butte's finest design minds!
For more information about the free festival, click here or visit www.crestedbutteartsfestival.com.
Mountain Living is proud to sponsor the Art of Living Design Suite at the Crested Butte Arts Festival.